The IMDEA Software Institute organized the first "IMDEA Software – Tezos Blockchain Workshop" that took place in Spain, the 16th of January, 2020.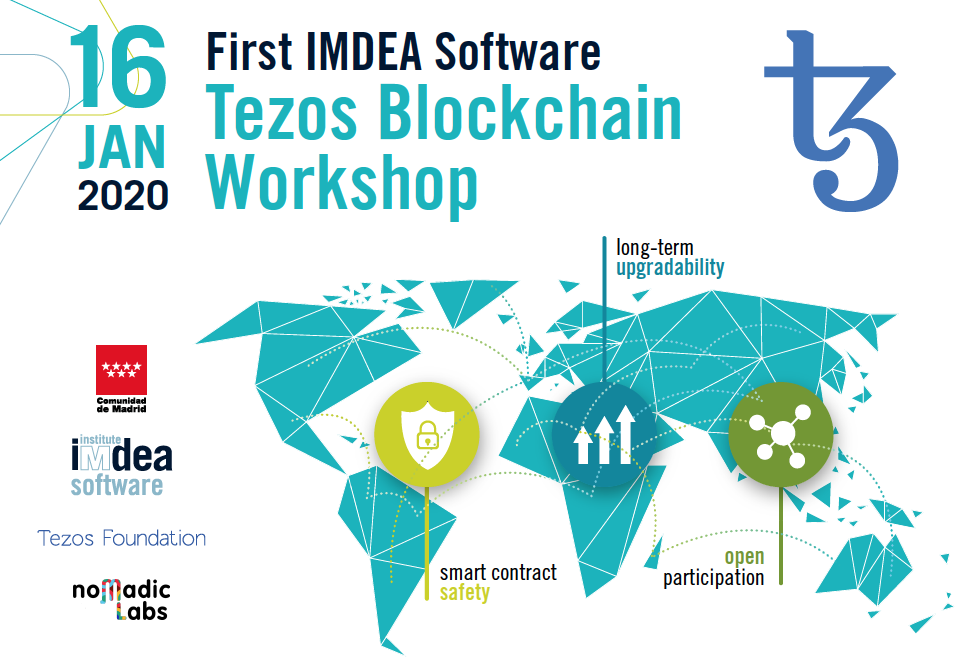 A scientific event that counted with many top class researchers and blockchain experts to discuss about the utility of Tezos technology.
---
Agenda
10:00 – 10:30 Introduction
Manuel Carro, Director of the IMDEA Software Institute.
Michel Mauny, Chief Scientific Officer at Nomadic Labs.
Consensus
10:30 – 11:00 The State of Consensus
Awa Sun Yin, Founder at Cryptium Labs.
11:00 – 11:30 Making BFT consensus live
Alexey Gotsman, IMDEA Software Institute.
11:30 – 12:00 Coffee break ☕
Verification
12:00 – 12:30 Verifying Tezos Smart Contracts and Codebase at Nomadic Labs
Bruno Bernardo, Nomadic Labs.
12:30 – 13:00 Type and Proof Structures for Concurrency
Aleksander Nanevski, IMDEA Software Institute.
13:00 – 14:15 Lunch 🍽️
Security and privacy
14:15 – 14:45 Present and Future of Privacy in Tezos
Marc Beunardeau, Nomadic Labs.
14:45 – 15:15 zkSNARKs: who, what, and…blockchains!
Dario Fiore, IMDEA Software Institute.
Resource Consumption and Performance
15:15 – 15:35 Resource Usage Analysis, Verification, and Optimization
Manuel Hermenegildo, IMDEA Software Institute.
15:35 – 15:55 StreamChain: Towards Sub-Millisecond Processing in Blockchains
Zsolt István, IMDEA Software Institute.
15:55 – 16:00 Wrap up
16:00 – … Time for informal discussions, breakout sessions
Coffee break ☕